PolyCom Stabilising Aid - highly effective yet simple road stabiliser.

Trusted Road Stabilising Aid Gains Ground
The PolyCom road stabilising system is gaining traction from state to state as road makers across Australia celebrate savings on unsealed road maintenance.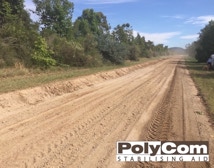 FromCairns to Canberra, Perth to Alice Springs and everywhere in between, treatingunsealed roads with PolyCom Stabilising Aid isa winner in the face of road maintenance issues.
In the last few months, the Australian made polymer binder has worked itsway through naturally occurring sub grade, pit gravel, natural soils and high quality crushed rock for a large numberof different projects in road construction, mining and earthworks across the country. Used on unsealed roads, access roads, airfields, mining haul roads, harvesting roads, carparks, hardstands or anywhere the earth is moved, PolyCom proves to be extremely versatile and cost-effective.
PolyCom enables Shires and road builders to produce a stronger pavement with the materials at hand. Theincrease in resistance to water ingress andtraffic wear on roads treated with PolyCom results in a significant reduction in road maintenance costs, saving time, money and resources.
PolyCom works in difficult materials that would normally be wasted or thought unsuitable, materials with a high clay content or a low clay content such as sandy clay.
With dedicated distributors in every state, you can rest assured that you will have local knowledgeand experience at hand to enable you to get the best possible results. PolyCom Stabilising Aid is a trusted polymer stabiliser used for over 12 years in the field. The fastapplication process does not require an investment in specialised equipment, making it easyto understand why road makers are increasingly turning tothe PolyComstabilising system for efficient management of road infrastructure.
Click hereto findout how to apply PolyCom road stabilising aid to almost any material.